Bold Moves
( Sorry, this event has already taken place. Please check our upcoming events here.)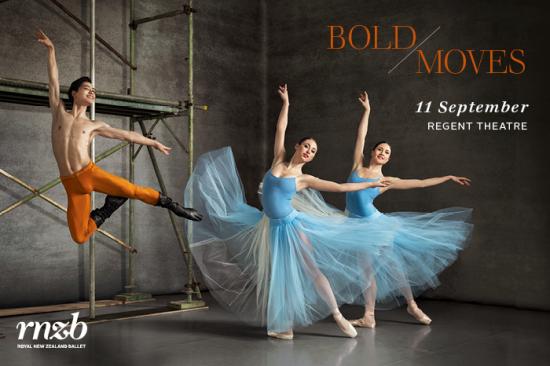 Where and When:
Date from: Wednesday, 11 September
Date to: Wednesday, 11 September
Location: The Regent Theatre

---
About:

Choreographers from three continents, sharing New Zealand stages this winter.
George Balanchine's Serenade: 28 dancers transported by Tchaikovsky's Serenade for Strings, moving through time and space in perfect patterns, supremely structured yet somehow free.
William Forsythe's Artifact II: a blast of neon and strobe. Primary colours, Bach spliced with electronica, and a larger than life American athleticism.
These two iconic works bookend a powerful new commission by Andrea Schermoly: Stand to Reason. Drama, drive, pulsating beauty – movement inspired by the tenacity of the bold women who won the vote.
You don't want to miss a step.
Event Notes:
Reserved seating event.
Warm up, Curtain up – 6.20pm, gold coin donation.
Existing subscribers are able to book from 2 October 2018 onwards through the Regent Theatre box office.
New subscribers may book from 15 October 2018 onwards – Regent box office only.
Public sales commence 1 November 2018.
Door sales based on availability from 6.30pm on the day of the performance.
Restrictions
Lockout – Latecomers will be seated after lockout. Some ballets are not recommended as suitable for children. Please ensure you are aware of any age restrictions. No ballet is recommended as suitable for children under 5 years of age. Children disrupting a performance will be asked to leave the auditorium.
More Information:


http://www.regenttheatre.co.nz/show_event/bold-moves/