Black Swan, White Swan
( Sorry, this event has already taken place. Please check our upcoming events here.)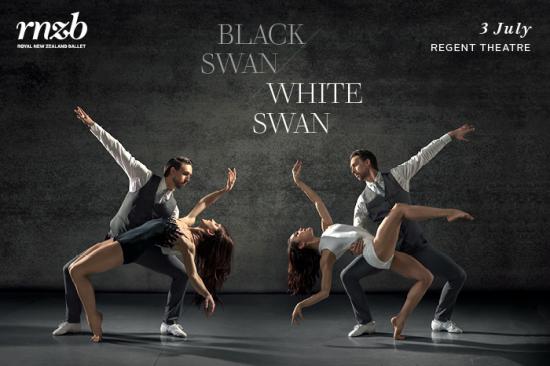 Where and When:
Date from: Wednesday, 3 July
Date to: Wednesday, 3 July
Location: The Regent Theatre

---
About:

The Royal New Zealand Ballet's new production Black Swan, White Swan is a magnificent re-telling of ballet's most enduring classic, Swan Lake. This stripped down, elemental version of the story focuses on Siegfried's struggle with ideal love, pure evil, temptation, and most of all, himself. This is a Swan Lake for the 21st century.
Event Notes:
Reserved seating event.
Warm up, Curtain up – 6.20pm, gold coin donation.
Existing subscribers are able to book from 2 October 2018 onwards through the Regent Theatre box office.
New subscribers may book from 15 October 2018 onwards – Regent box office only.
Public sales commence 1 November 2018.
Door sales based on availability from 6.30pm on the day of the performance.
Restrictions
Lockout – Latecomers will be seated after lockout. Some ballets are not recommended as suitable for children. Please ensure you are aware of any age restrictions. No ballet is recommended as suitable for children under 5 years of age. Children disrupting a performance will be asked to leave the auditorium
More Information:


http://www.regenttheatre.co.nz/show_event/black-swan-white-swan/