Cirkopolis
( Sorry, this event has already taken place. Please check our upcoming events here.)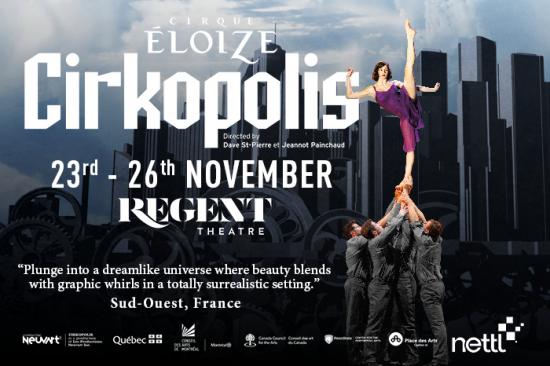 Where and When:
Date from: Thursday, 23 November
Date to: Sunday, 26 November
Location: The Regent Theatre

---
About:

A crossroads, between imagination and reality, between individuality and community, between limits and possibilities … Driven by the poetic impulse of life, the physical prowess of the circus and the humour, at once serious and light-hearted …
Cirkopolis by Montreal-based Cirque Eloize, combines the worlds of circus, dance and theatre. In the heart of a stern and imposing city, giant gears and dark portals symbolize a mechanism that crushes individuality. Twelve performing artists rebel against monotony, reinvent themselves and challenge the limits of the factory-city. In a world where fantasy provokes reality, the veil of anonymity and solitude is lifted and replaced by bursts of colour.
Entering Cirkopolis is all about letting go and allowing yourself to be borne aloft by hope.
"Eloize's magicians use all the traditional ingredients to plunge the audience into a dreamlike universe where beauty blends with graphic whirls in a totally surrealistic setting." 
Sud-Ouest, La Rochelle, France
" … traces of Chaplinesque slapstick, raw Olympian power, sexual politics, the intellectual challenge of contemporary dance, the whimsy of a Michel Gondry film and a dash of Wolverine." 
Sydney Morning Herald, Sydney
On sale Wednesday 23rd August – unless you're on our mailing list! Sign up now to get access to a presale code available from 9th -16th August.
**IMPORTANT NOTE **
Tickets to Cirkopolis by Cirque Éloize, at the Regent Theatre, must be purchased from our official ticketing partner TicketDirect or at the Regent Box Office to ensure your tickets are valid. Any tickets purchased through a third party or unauthorised seller may result in your tickets being void, restricting your eventual access into the event.